WELCOME!

I
n 1906, at the original Azusa Street Mission people would ask "Have you received your Pentecost?" Today we ask you,
have you
received your Pentecost? Have you been filled with the power of Almighty God? Do you want to experience the
baptism of the Holy
Ghost with the evidence of speaking in New tongues?
We believe that the Lord wants us to continue
to expand the knowledge of the Azusa Street Mission and Revival to the ends
of the
earth.
We formally re-opened the AZUSA STREET MISSION on May 6, 2006 under the umbrella of Azusa Street Mission and
Historical Society.
If you are connected to or have historical
evidence from the original Azusa Revival we would love to
hear from you!



MISSION STATEMENT

Carrying the Flame of Azusa to the Next Generation throughout the Nations of the World!

Let your Kingdom Come

!

I Corinthians 4:20 & Acts 1:3

"For the Kingdom of God is not in word, but in power...speaking of things pertaining to the kingdom of God"

PROPHETIC TRAINING

J

oin us

to get trained and equipped to move in the prophetic. Meetings are normally held from 3-7 PM on Saturdays two times per month.


For more information call 323-692-7268. Please RSVP.

Find out exact details HERE.

OUTREACH

Every Saturday morning Sweepers Wanted!!!

Help clean the streets for Skid-row residents 10-12pm.

Meet at the SW corner of 5th & Crocker Street, LA 90013.

Free Parking on: 4th, 6th & 7th Streets, ea

st of San Pedro street.
Get Trained in the Prophetic...Azusa Street Prophetic School is coming to Los Angeles....May 12- 14th, at Restauracion Total Church , 5606 S. Broadway, Los Angeles, CA 90037. This event is hosted by Pastors Javier and Cynthia Buelna in partnership with Apostle Fred & Wilma Berry.

Sessions on May 12th and 13th are 6:30pm - 10pm and 9am - 9:30pm Saturday, May 14th; with a lunch and dinner break.

Everyone who completes the training will graduate and receive a certificate.

The training will be conducted in Spanish and English.

Cost: $95.00/person

Register HERE

For more information call 323-692-7268 or contact Restauracion Total Church.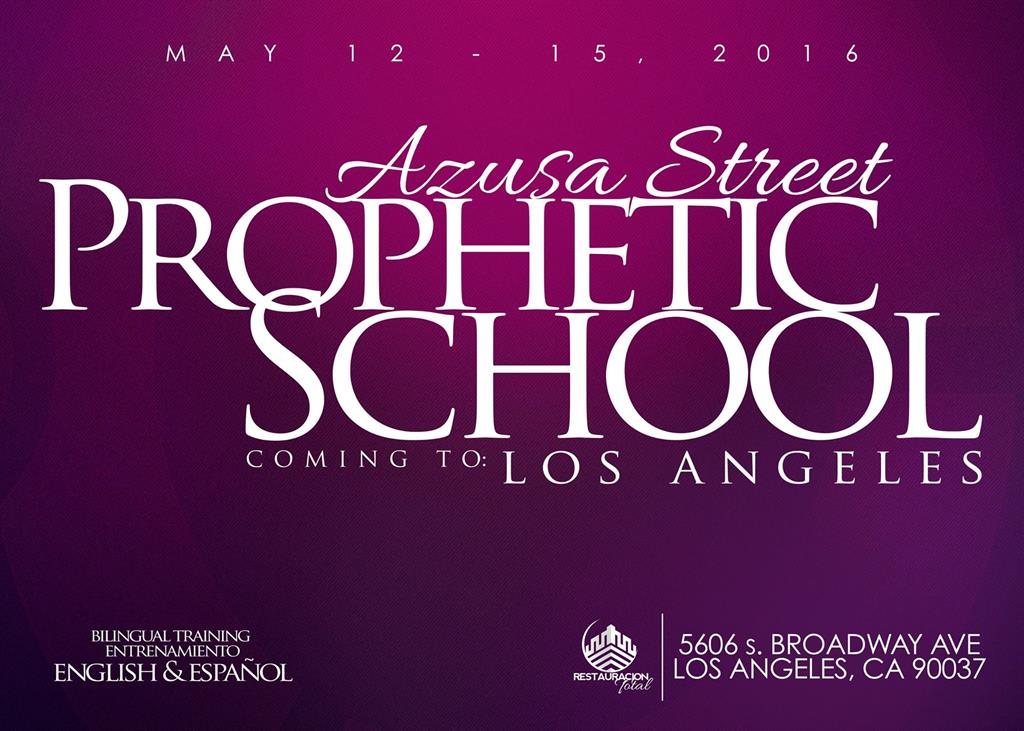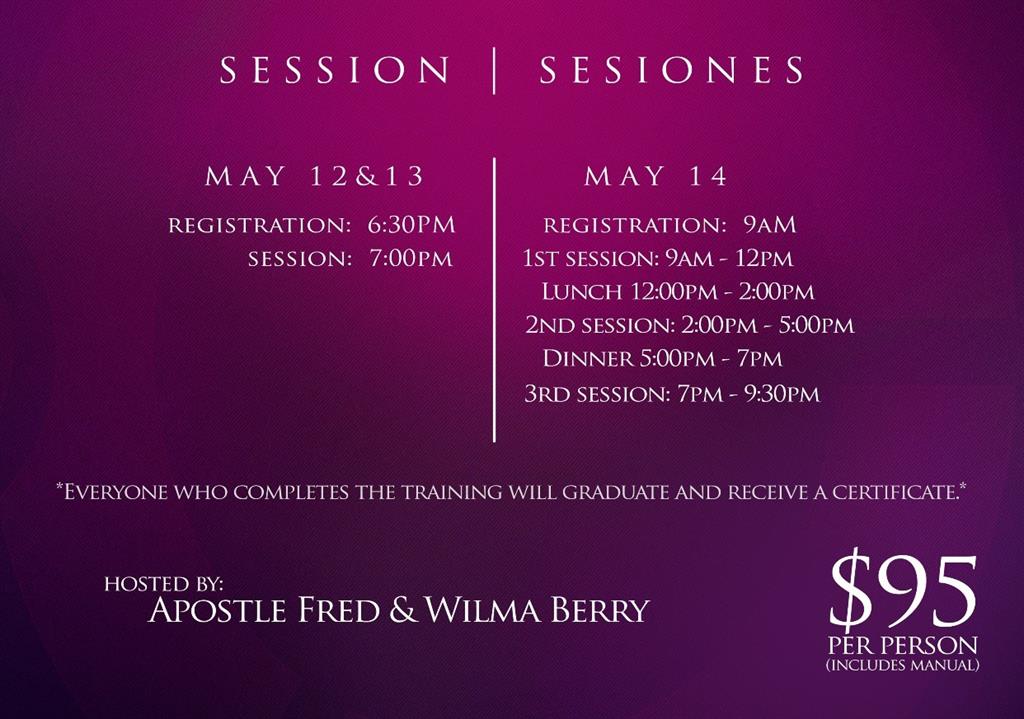 THANK YOU for supporting
Azusa Street Mission,
we are a Prophetic Training Center.
There are two ways to give:
1.

C

lick the button below...
All donations to Azusa Street Mission are tax deductible.
THANK yOu TO EVERYONE WHO ATTENDED
azusafest & AZUSA NOW ..please send us your testimonies to admin@azusafest.com